Royal Flush, a locally owned and operated pumping company with 10 years of experience working in the Fraser Valley, understands the importance of treating every client as if they are royalty.
Unlike other pumping companies, Royal Flush values client relationships and there is nothing more important to us than giving our clients complete peace of mind that their questions and concerns will be addressed as efficiently and thoroughly as possible. That is why our team of pumping professionals are always available to handle any emergencies or questions you might have, even in the middle of the night.
our story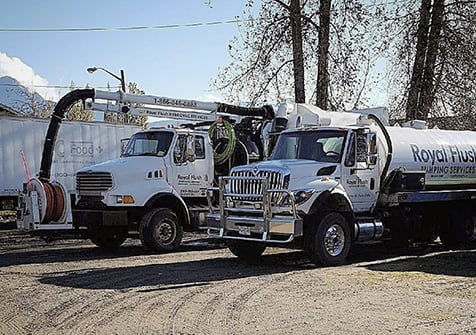 How it all started
Founded in 2016 by Cody Doerksen and Mike Shepherd, Royal Flush Pumping Services was created to provide clients with the best possible services performed with the highest level of professionalism in the industry. In an industry that tends to be underwhelming for its customer service, the pumping professionals from Royal Flush have always strived to create dependable and trustworthy relationships with each of our clients, based on transparent and honest services that are performed to the best of our abilities.
With 10 years of experience working in the pumping industry, the professional team from Royal Flush specializes in everything from septic tank pumping to grease trap and interceptor maintenance, from camera inspections to line flushing and everything in between. All of our pumping services are performed to the highest standards in the industry and are backed up our extensive knowledge and the latest, top-of-the-line equipment.