Septic Tank Pumping and Cleaning
All septic tank pumping and cleaning services from Royal Flush are performed using only the latest equipment and technology in the industry.
Septic Tank Cleaning
Camera Inspections
Scum and Sludge Layer Measuring
Quick quote
Septic Tank Cleaning
Septic tank cleaning services from Royal Flush Pumping are designed to locate, expose, and empty out your septic tank in the most environmentally friendly way possible. Through the use of the latest technology and equipment, our team of pumping professionals are able to provide minimally invasive services, leaving your yard in pristine condition. During our septic tank cleaning services, our team will even take the time to check the condition of the baffles, tees, and walls of the tank for any cracks, as well as the drainfield for any signs of failure to ensure future problems do not arise.
Camera Inspections
In order to determine the current condition of your septic tank, our team of highly trained and skilled professionals will perform camera inspection services. All of our camera inspection services allow for septic tanks and their components to be inspected, determining their working condition, without digging up your yard. Our team can also use our camera inspection services to provide a complete comprehensive report on any recommended services or part replacements, as well as to accurately map out the septic field and tank for homeowners, making future repairs and servicing easier.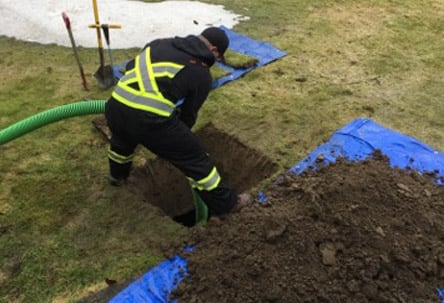 Scum and Sludge Layer Measuring
Through the use of special tools, the technicians from Royal Flush can accurately measure the accumulated layers of scum and sludge in order to assess the overall health of the system. Septic systems that have a sludge depth of one-third or more should be pumped out and inspected by a professional.